//cdn.shopify.com/s/files/1/0079/3018/3757/products/lw---isabella--bra.jpg?v=1599662882
//cdn.shopify.com/s/files/1/0079/3018/3757/products/lw---isabella--bra-back-up.jpg?v=1599662883
//cdn.shopify.com/s/files/1/0079/3018/3757/products/hqdefault_0a556a00-a286-460b-beb9-bf77eeb07084.jpg?v=1603894864
//cdn.shopify.com/s/files/1/0079/3018/3757/products/Isabella-bra-cut-out-front.jpg?v=1599662870
//cdn.shopify.com/s/files/1/0079/3018/3757/products/Isabella-bra-cut-out.jpg?v=1599662870
//cdn.shopify.com/s/files/1/0079/3018/3757/products/lw---isabella---close-up.jpg?v=1599662882
//cdn.shopify.com/s/files/1/0079/3018/3757/products/Isabella-close-up-detail-bra.jpg?v=1599662882
//cdn.shopify.com/s/files/1/0079/3018/3757/products/lw---isabella--back-close-up.jpg?v=1599662882
Customer Reviews
Write a Review
Ask a Question
Filter Reviews:
hassle
bra size
size bra
retailer
sports bras
measurements
knickers
money
calculator
shops
02/03/2021
Anonymous

United Kingdom
So so unbelievably happy!
I can not begin to explain how happy I am with my new bra, I've always worn primark non-wired bras, which are almost like sports bras but not, so this bra was my first proper bra and i'm 16. This is because I have such a small chest and shops and online retailer never seem to do my size bra and it's always got me down, but when I found Little Women I was so happy to see that they sold bra's in my size and what's more I didn't know my bra size before but I put my measurements into their calculator and they gave me my bra size with no hassle. And the bra fits perfectly, it's comfy, the straps are the right fit and it also makes me feel quite confident as well as I never thought i'd find a bra that looks that good that fits me! So I am so happy and when I have the money i'll definitely be buying more bra's from Little Women. Quite expensive for one bra, but definitely worth the money and I feel great!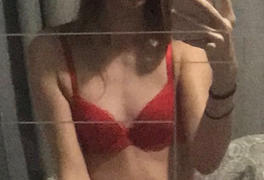 12/10/2020
Anonymous

United Kingdom
Gorgeous Bra
Just love it. Fits nicely, looks fabulous and with the matching knickers makes you feel good!
10/16/2020
James D.

United States
Bra
She loves it. Will buy more